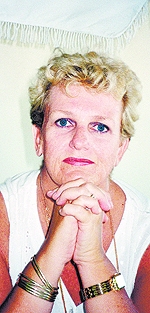 She fell passionately in love with her best friend's husband, what else could she have done?
Mariette Bosch (pictured) is the name of the infamous woman convicted in Botswana of gunning down her friend because of her lust for her victim's husband. Mariette killed her best friend to wed her husband in secret.
The judge told cold-eyed Bosch, who married Ria Wolmorans' husband just three months after her killing, she would be "hanged by the neck until you are dead".
The court in Botswana heard the case of widowed Bosch, who led a life of luxury and privilege after moving from South Africa, had echoes of the infamous "White Mischief" love-triangle murder in Kenya in the 1940s.
Bosch, who looked eerily similar to Moors Murderer Myra Hindley, set her sights on Tienie Wolmarans, husband of her best friend Ria, after her own husband died five years earlier, the court heard..
The 50-year-old secretly married Tienie, 47, three months after the 1996 murder, in which Ria was shot twice in the head at close range with a 9mm pistol.
Bosch, 50, from the Phakalane suburb of Botswana's capital Gaborone, was found guilty of murder - which carries a mandatory sentence of death in Botswana. She was later hanged after her appeal failed.
She was caught after she allegedly gave her brother the pistol she had used to kill her friend and her brother's wife handed it to the police.
Throughout the sentencing, Bosch, digging her fingernails deep into the flesh of her arm, told the judge repeatedly: "I am not guilty, you are sentencing a woman for a thing I have not done."
But Judge Isaac Aboagye told the court: "I find the accused and Tienie were seriously in love before the death of the deceased and they wanted the deceased out of Tienie's way for them to get married."
Bosch's 25-year-old daughter Charmain crouched on the floor of the courthouse, shaking and sobbing violently, and her 14-year-old daughter Sune stuck up her middle finger in defiance while weeping and clinging to Tienie's arm.
Judge Aboagye added: "I have not been able to find one moral extenuating circumstance.
"You are not very young, you were not intoxicated and you were not provoked."
He said he had no doubt she had killed her friend out of "jealousy and infatuation".
To outsiders, Mariette Bosch was the woman who had it all - children, a lovely home and an extravagant lifestyle to match.
The case has been dubbed Botswana's "White Mischief," in a reference to the story of a doomed love triangle among wealthy white settlers in 1940s Kenya, which was later made into a film starring Charles Dance and Greta Scacchi.
Murderess Mariette Bosch executed in Botswana
By Vivian Warby - Iol.co.za
April 2, 2001
South African Mariette Bosch is dead.
Despite months of petitioning by Bosch's husband, Tienie Wolmarans, and sympathisers, clemency was denied by the Botswana government.
Wolmarans was also apparantly denied access to Bosch before she was hanged in the early hours of Saturday morning. She is the first South African to be executed in Botswana.
Details of her execution remained sketchy on Monday.
At the weekend, Botswana's President Festus Mogae said in London that he would not consider granting Bosch clemency.
This morning, Joe Orebotse, speaking on behalf of Botswana's prisons commissioner, confirmed Bosch had been hanged. He said no relatives were allowed at the hanging. Earlier he had told The Star that a hangman, prison officials, medical officer and a religious minister would be present at the execution.
When The Star contacted the family of Wolmarans and Bosch this morning they declined to speak to the press and said they should rather contact her legal representative in the UK, who could not be reached.
Wolmarans himself could also not be reached, despite numerous calls to his home telephone in Botswana.
One of the bitter ironies was that South Africa, under President Thabo Mbeki's office, was going to launch a petition today to get her death sentence overturned. Neither Wolmarans nor Bosch herself expected clemency.
The 50-year-old South African woman had hoped her death sentence would be overturned. But a few months ago an appeal court in Botswana upheld the death sentence imposed on Bosch for killing Ria Wolmarans, Tienie's first wife.
Since the start of her trial in 1996 Wolmarans, both sets of children and Bosch herself have proclaimed her innocence.
Bosch spent her last days and nights alone in her death row single cell in Botswana, Gaborone's Central Prison, under the menacing shadow of death.
There death row inmates do not work or do chores.
They tend to themselves and are left to occupy themselves throughout the day and night.
Not even a request for a last meal of their most favoured foods is allowed in Botswana. No sedative is given to the person before he or she is hanged.
Wolmarans could not be reached this morning and it is not known about his and Bosch's last meeting before she was executed, although Orebotse said that she had not been allowed any visits from relatives before her death.
He also said the name of the hangman could not be released and he could also not give out the location of the execution.
His son-in-law said that the family was not speaking to the press and that all queries should be forwarded to London to Bosch's advocate.
The court had earlier found that Bosch had killed Ria Wolmarans. The mother of three was shot twice, once in the side and once in the chest in 1996.
The court found that Bosch had scaled a 2m wall, entered Wolmarans' house and confronted Ria in the passageway where she shot and killed her. Three months later she became engaged to Wolmarans.
As recently as a month ago Wolmarans launched his own investigation to prove Bosch's innocence.
Her death sentence caused an outcry from international and South African human rights groups who called for Bosch to be spared the gallows.